Educator in Service provides consultation and K-12 world language workshops through teacher inservices and professional development retreats.   Janice Holter Kittok's signature two-day seminar, Redefining Possibilities for the Teaching and Learning of Languages, is presented nationwide and internationally.
Language Teachers,
You've likely heard these stories.
Learning a Language Story
You tell someone that you're a language teacher and they launch into a story about how many years they studied a particular language and how they could not say anything.  They figure they're "one of those people who can't learn languages".  (Now really, can the overwhelming majority ALL be "one of those unique" persons?)
This Learning a Language story needs a rewrite.  Good news!  World Language Teachers are the authors of that story.  How do you hear that new story being told?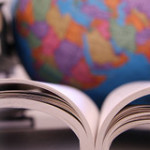 World Knowledge Story
You see the results of yet another survey or hear the comical answers people give to "man on the street" interviews.  Both show that Americans are woefully lacking in world knowledge (geography, famous events/people, politics, global issues, etc.).  You wonder what becomes of a society with such a widespread "global knowledge gap".
More good news!  World Language Teachers can be the authors of this rewritten World Knowledge story as well.
Rewriting Our Story
At Redefining Possibilities for the Teaching and Learning of Languages, we'll explore how we teach languages and what content we learn about in the language classroom.  Learn how Content and Language Integrated Learning (CLIL) and intentional focus on Global Competency transforms educators, language programs and the lives of their students.
Learning together, we empower each other to be the passionate and effective teachers we envisioned we would be when we chose education as a career.  Join me in rewriting The New Language Education Story.  Attend a Teacher Retreat or bring a Teacher Inservice to your school/city.
Founder, Educator in Service  | (612) 201–2788 | Jan@EducatorInService.com